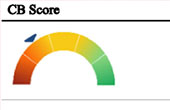 In October 2016, PCB officially launched a new service - Credit bureau Score: GLOCAL. Finally, an advanced risk assessment tool, widely utilizing in developed countries, was introduced to the Vietnam market.

What is GLOCAL Score?
-GLOCAL = GLOBAL + LOCAL, meaning Global experiences customized for the Local market;
-The entire credit history in the report of a borrower is summarized and presented in a single score. Each score is linked with a specific risk of the borrower becoming bad.
How does the GLOCAL Score work?
-The scoring model was designed based on a combination of input variables such as age, repayment history, length of credit history, etc. to provide an assessment score predicting the probability of default of the borrower's loans in the next 12 months;
-GLOCAL can be a market benchmark, reflecting the level of risk of a borrower at the market level;
-GLOCAL is easier to read and understand comparing to obtaining information from the detailed credit reports;
-GLOCAL scores both private enterprises and individual clients;
How to apply GLOCAL Score to the risk assessment process?
-Integration with automated approval systems, reducing the appraisal processing time and costs;
-Utilizing as an input parameter of the internal rating/scoring system at credit provider;
-Re-evaluation the borrowers, segmentation the portfolio to deploy suitable credit strategy.
Please contact PCB for more information on this service.