PCB would like to inform our business hours during the holiday period as follows:
1.    PCB will be closed from Wednesday, February 14th 2018 to Tuesday, February 20th 2018
2.    PCB will open on Wednesday, February 21st 2018
Best Regard!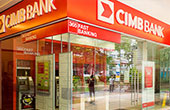 CIMB Group Holdings Bhd., Malaysia's second-biggest bank by assets, has chosen Vietnam as the starting point to penetrate digital banking in Southeast Asia, Bloomberg reported.