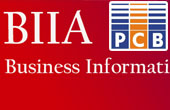 Since January 1st, 2017 PCB honored to become a full member of BIIA- one of the largest associations about business information industry and the most famous in the world.
Business Information Industry (BIIA) was established in 2005 by several companies on information industry and leading consultancy in Hong Kong, this is a trade association for institutions, which provide a wide range of information services on consumers and enterprises that help enterprises manage development and risk. Joining BIIA will help PCB more abundant, plentiful information, expand the relationships, build images and create a stronger position in region and in international area.

Moreover, BIIA is also an association that has the largest global networks of business information providers with over 60 members cover a wide spectrum of services including information content, workflow software and risk assessment tools. One of the largest segment member of BIIA is customer credit bureau and credit information bureau, this will create favorable conditions for PCB in mobilizing support for promotion activities or can contact to cooperate to organize industry campaigns, events.
With this significant step forward, PCB promises to become on top of the world credit information bureau and the most prestigious in the near future. 
For more information, please click here.