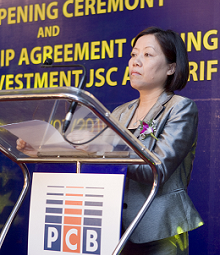 At the moment, there are 86 million people and 480000 small and medium enterprises (SMEs) in Vietnam. However, only 5% of the population and 30% of SMEs have credit transaction with banks.
Vietnam's first private credit information company, the PCB, officially began providing services yesterday with more than 20 banks committing to supply information.
On the day of its launch, the company also signed a strategic partnership agreement with Italian CRIF.
The company was established by the Private Credit Bureau Investment Joint Stock Company (PCB). Its total charter capital of 50 billion VND (2.7 million USD) was contributed by 11 Vietnamese commercial banks including ACB, ABBank, Vietinbank, BIDV, Southeast Asia Bank, Techcombank, Vietcombank, SB, VIB, Vietbank and VPBank.
Le Thi Kim Nga, president of PCB's management board, said the banks contributed 70 percent of charter capital, while the Italian group owns 20 percent. The remainder will be contributed by other strategic partners.
The company is expected to supply highly credible credit information about individuals and organisations.
It will also help small-and-medium-sized enterprises (SMEs) and the private sector access credit quickly and easily.
CRIF will provide experts and technical systems to the PCB to help the company become Vietnam's first international-standard private credit information company.
Nga said the country had a population of more than 86 million and over 480,000 SMEs.
"However, only 5 percent of the population and 30 percent of the SMEs have engaged in credit transactions with banks. This is a low rate in the region, as the rates in Thailand and Malaysia are 70 to 80 percent," she said.
She added that a lack of reliable information made it impossible for credit organisations to provide credit and manage their customers. CRIF was established in 1988 and is currently managing credit information centres in Italy, the Czech Republic, Slovakia and Hungary.
Under Government Decree 10/2010/ND-CP, a private credit centre can only be established when at least 20 banks pledge to provide credit information to the centre.
Therefore, Vietnam, with 51 commercial banks, can only have a maximum of two centres excluding SBV's Credit Information Centre (CIC). /.