CREDIT BUREAU SCORE - GLOCAL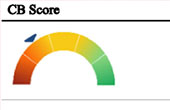 In October 2016, PCB officially launched a new service - Credit bureau Score: GLOCAL. Finally, an advanced risk assessment tool, widely utilizing in developed countries, was introduced to the Vietnam market.
Value-added products
PCB's goal is to bring true value to our customers. We provide a completed credit information solution which includes multiple products and services specifically designed for risk evaluation and portfolio management.
Based on 25 years of experience in the credit information business CRIF, our strategic partner, PCB has created a roadmap to deliver added-value services to our customers according to the market maturity level. The following is a list of several products provided by CRIF worldwide.